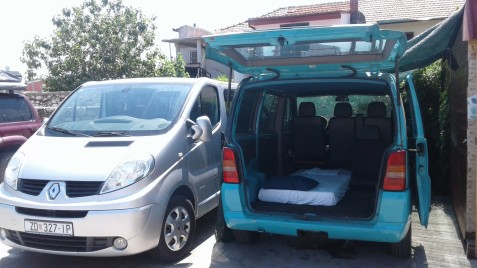 Faffing about, a Visit Home and the Next Chapter
I've decided to pull my finger out and write something instead of indulging in my seemingly endless talent of procrastination. What it genuinely boils down to is the fact that so much seems to have gone on in these last few months it begins to overwhelm, and so I swap the laptop glare and crumb-filled keyboard for a big bag of cans with the lads. I will try and keep this update as short and as concise as I can while trying to fill it with as much entertainment as possible. I've basically just been faffing about.
The summer was spent in the back of a van. I was driving one and sleeping in the other. Working for a hostel in Zadar as a tour driver had its ups and downs, but ultimately I knew I had made the right decision to stop long-term travel because I was so profoundly tired of people. Even the most harmless conversation could ignite a fierce, jaded cynicism and an alarmingly biting hatred of all and sundry, and if it wasn't for the hostel team and subsequent camaraderie, I believe I would have lost my mind. Or murdered every guest in their sleep. Simply put – I'm done with hostel life. The decision was cemented early on in the season when I was subjected to probably the most obnoxious experience since being on the road.
Tall, American bro dude with chiselled looks and underwear model physique cannot stop taking his shirt off as soon as he spies a female. I must have watched him do it a hundred times. On. Off. On. Off. On. Off. Turns head – sees woman – takes off shirt. He's borrowed a basketball to play on the court just down the road and spying a group of ladies setting up a barbeque on his return, the shirt duly comes off and he swaggers over topless with the ball under his arm.
"I'm from Washington State." He announces in bro American drawl, totally unsolicited, thrusting his crotch forward to maximise the possibility of someone looking at his genitals. "Yeah, I used to work on the oil rigs."
Who the fuck actually cares? A couple of girls turn their backs and giggle. I can't work out if it's because they're genuinely struck by him or because they know he's a twat. He's totally unfased, because he's either got an ego of steel or he's a moron. I'm going for both.
"Imma go shoot some hoops. I like shootin' hoops. Y'all wanna come join I'll be shootin' some hoops."
He's back with his shirt off in under five minutes because nobody joined him to shoot some hoops.
Naturally, during the evening one blonde Canadian bimbo falls for his "charms" and the two disappear off to the beach for some gentle caressing and sausage hiding. Regardless, it firmly cements the fact that my tolerance for such humans has reached zero, and I resolve that my time in hostels is done. I'm amazed it's only taken six years.
Apart from stacking it on a friend's bike in front of the entire hostel during a barbecue, buckling the tyre as I tried to ride to the bus station while wearing my kilt and a bottle of gin deep, there's little else to note. The summer came and went, and on the 20th August – what would have been my father's 84th birthday – I sat in his chair once again. All my worldly goods deposited in storage seven years ago were delivered to our new home in Zagreb, and I set about discovering just how much crap I'd acumulated. My parents were clearly hoarders, but as a wise friend recently noted; "who is the biggest hoarder, the hoarder who hoards, or the hoarder who hordes the hoarder's hordes?" We should put that on a meme with a picture of a sunset behind a tree, type "word porn" at the bottom and rake in thousands of likes.
And so I began to sift and sort through a lifetime of belongings, photographs and memories; selling, donating or throwing away anything surplus to requirements. It was fun for a day to leaf through boxes and boxes of school work, drawings and exercise books dating back to the early 80's, especially recalling my obsession for writing about Superman's laser eye beams and drawing outrageous self-portraits of my apparently triangular head. I have kept a few for posterity but all the rest I consigned to the green wheelie bin out front, thus my early works of child genius end their unappreciated lives in a Croatian landfill. My experiences running a car boot sale at Zagreb institution – Hrelic fleamarket – I documented for Total Croatia News (a publication I will hopefully be contributing more to), but outside of that, life has simply been ticking by, drinking Yorkshire tea, patiently waiting for death.
There was a recent, all-too-short visit back to my old stomping ground in the UK, including a weekend at my sister's, a comic con nerd-gasm and Harry Potter and the Shameless Cash-In studio tour for our birthday. (I recently discovered to my utter horror that J.K Rowling earns £197,000 A DAY). However, I spent a great deal of time lamenting days gone by, staring wistfully into space and reminiscing about former haunts and their haunters. It's not that I'm adverse to change, it's just that I don't like it when it happens. Both Wetherby and Glasgow are almost alien to me now, and while some things have stayed the same, in certain areas it almost felt like I had never been there at all. Change is easier to take when it happens around you. It grows as you grow – evolves as you evolve. You accept it as you witness it. But when you return to a place you used to know and love so well and it's suddenly very different, you're a stranger in a strange land. It's deeply disturbing and confusing. Well, it is to me anyway. I struggle to understand where it's all gone, and as I clumsily slide rose stems into my parent's graveside vase, I realise I'm none the wiser.
It begins to rain upon our return to Zagreb, winter slowly taking hold, but the farmer's tan finally fading. I'm not really sure what happens now, as I go through a lengthy process of re-acclimatising to a more settled way of life, establish a freelance writing company (easier said than done in Croatia) all the while reeling in the shocking revelation that you actually need income to survive. It is with the deepest regret that I am forced to take my head from the clouds, knuckle down and buckle up. The time for staring out of the window has begun.