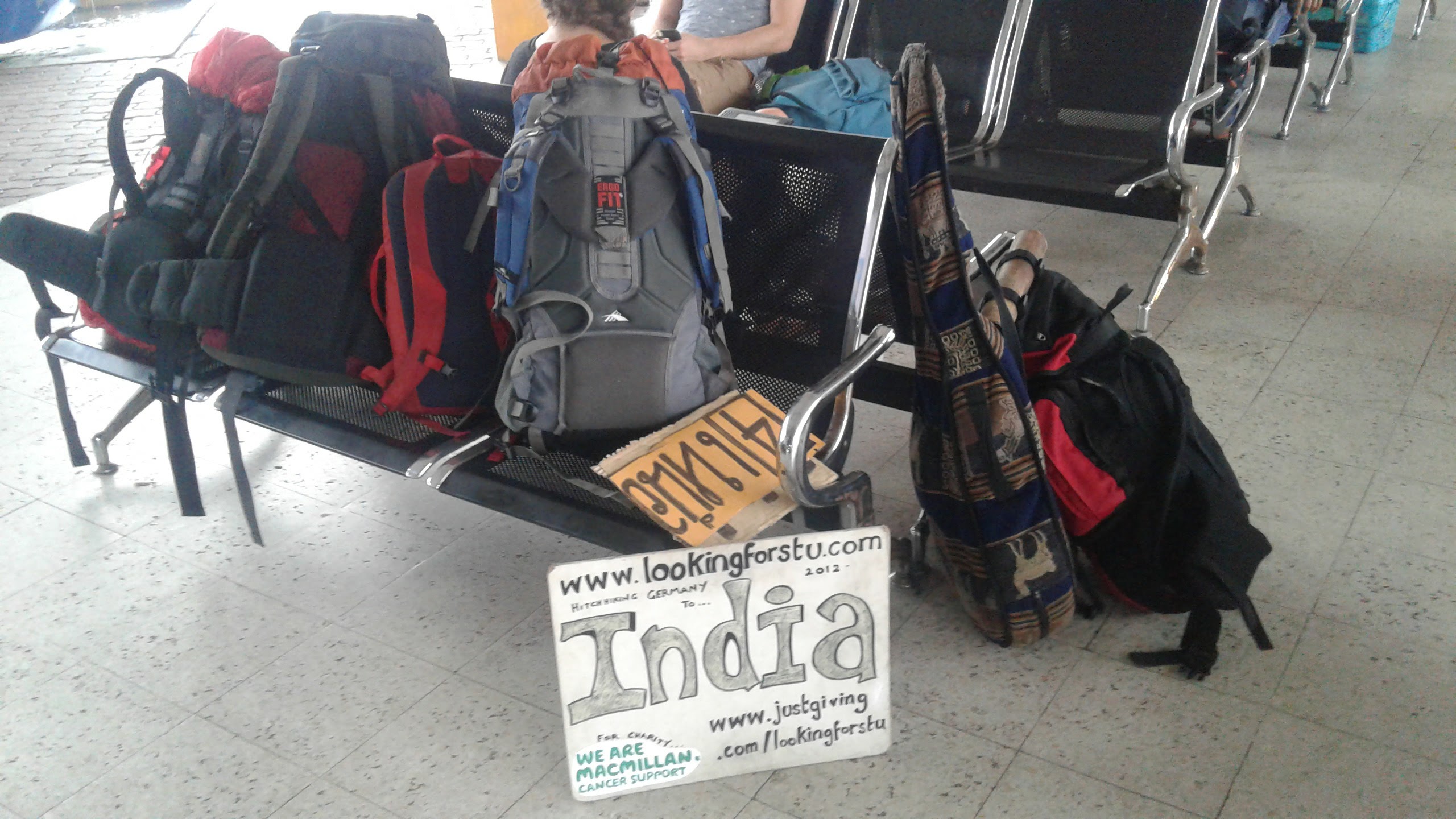 Hitchhike to India leg 63: Ranong to Bangkok
Alright, so I've not written one of these in a while, which is what I seem to be doing of late – nothing at all. I shall remedy this in due course, as there are things to tell. Stories to regale you with. The usual utter filth and debauchery you have come to expect from this classy publication. But first, let me take you back to a time at the beginning of the year, on a cold, wet, rainy January day in Thailand. Cold – maybe not. Wet – you have NO idea.
We'd been holed up in a cheap but comfortable guest house in Rangong while my back heals. If you'll remember in the last installment of "how much can Stu fuck things up?" I had slipped a disk trying surfing for the first time. Honestly, a new-found respect for surfers. So I was bedridden for a couple of days, going through heat patches like they were going out of fashion, occasionally lumbering to the toilet. Round about this time, the heavens decided to open.
And what a deluge it was to be. Keeping one eye on the news, we discovered that it was one of the worst rainy seasons on record in Thailand, causing a number of deaths in the country – particularly in the south. We were lucky to be on the cusp of coming out of it – or so we thought.
Trying to wait for a gap in the wall of water was proving something of an impossibility. At one point, it must have been raining solidly for 48 hours. And I mean solidly. Not just a light shower – it sounded like gods fists were smashing down on rooftops. And time wasn't on our side (as it usually is when I'm hitchhiking solo) as Alex needed to get back to Bangkok for a potentially life-changing job fair. It wasn't looking good.
So with some reluctance and we decided to take a mini-bus to Chumpon, a city I had passed through a month or so ago on my way to island shenanigans. I had come full circle, but unfortunately, I'd fallen at the final hurdle, forced to take paid transport. It's not the first time dear readers, and it won't be the last – but more of that anon.
We had a reasonable plan. If we just get over the pass and a little further north, we'd surely leave the weather behind. Yeah right. A couple of short hours later and we're still in the downpour, trudging through Chumpon's soaking streets trying to locate a bus all the way back to Bangkok. By this time we'd totally given up hope of any kind of hitch, which would be a fool's errand. Walking anywhere in this and you're soaked to the bone within a minute. But we're not in the UK now, and finding transport back to the capital city proves harder than it should really be. The next bus isn't until 8.30 pm. It was 2 in the afternoon.
Wet through and knocking heads, arguing all the way through crowded markets and people huddling from the rain, we stagger into a hotel and find a receptionist that doesn't speak much English but does manage to get us a taxi to a bus which is leaving at ten past. It's ten minutes away so there's no margin for error, and we yell at the poor guy to step on it. Kudos to him as he gets us there on time – but the bus is full. I'm starting to lose my cool. No, that's a lie – I'd lost it when I woke up. Actually, I don't think I've ever had it.
In a huge stroke of luck, our taxi driver speaks decent English and can take us to the ACTUAL bus station. Which – thank Jesus and the saints and all the angels – is a proper bus station. They got busses there. Actual busses. They're supposed to be going to Bangkok every hour – which is what you would expect from a traffic link between two of the countries biggest cities. However, we learn that the reason for all the madness is because of the horrific conditions down south. Transports have been stranded, mudslides and flooding have caused impassable roadblocks, and as mentioned earlier – people have lost their lives. In the grand scheme of things, we were doing alright.
We manage to get a place on a bus in a couple of hours, and settle in the open concourse to read books, shelter from the weather and try to calm down. I stuff my mouth with pork scratchings to cheer myself up. The rain is still coming down hard as we bundle on a coach some time later and finally get underway. At least we were going to make Bangkok at a decent time.
Which of course we don't. We make several stops which are far too long while trying to get sustenance from packets of microwaved sausages from a 7/11. Around 2 am we're dejectedly still trying to find the hostel because Alex forgot to add the location on her phone when she booked it. Wearily wandering through deserted, dark streets by a railway station in Bangkok is not my idea of fun. There's a cardboard city set up too, with hundreds of homeless huddled together and I'm feeling more than a little uncomfortable. Still – at least we have a home to go to.
Which we eventually find, no thanks to a hotel receptionist who refuses to allow us to use his wi-fi to find the place. Shocking hospitality. Two shattered travelers trying to find their beds for the night and he didn't even let us use his reception computer. Arsehole. Down another shady dark street, we locate home base, and another arsehole greets us. The night-shift worker is sleeping in the corner, and – would you believe it?! he's got to do his job and put through two late check-ins! But he doesn't like it one bit, and it was to be the first in a long line of abuse we would receive from the staff at this appalling excuse for a hostel. Still – it was right around the corner from the job fair. Gotta take the rough with the smooth.
Days don't come much more trying than this, and we go to bed in all but silence. Traveling with someone has always been difficult for me – especially someone close to me – and this was proving to be no exception. But I generally think that's because I'm the one being the arsehole. Tomorrow is another day.