Visas, cloud forests, thieving bastards and going back in time
Tehran is a rather large city. I've been here about a week and I still can't get my head around it. Not only that, but it's filled to the brim with Iranians. There's around 8 million of them, but they seem to take great pleasure insisting that there are much more. It's a city with 24 rush hours, no rhyme or reason to the roads, and it takes several decades to cross from one side to the other. And don't get me started on the underground. However clever you think you've been in your timing, you'll always find the side of your face pressed up against a window and your nose in a sweaty armpit. There's a riot every time a new train pulls in, and it's crossed my mind to disguise myself in the Chador and a splash of lippy in order to gain access to the less crowded women only carriages. Such is the extent of the human traffic and chaos, you can pretty much only get one thing done in a day. This has proved particularly frustrating in applying for visas.
Here, dearest readers, is where it gets a little complicated. In order to better understand the current predicament I am in, I have decided, for your reading pleasure, to draw a visa flow chart.  And you'd better like it, because it's taken me the best part of five hours to finish the damn thing.  Hopefully this will explain the multitude of hoop jumping I am having to endure as my time in Iran ticks away.  Have a click here: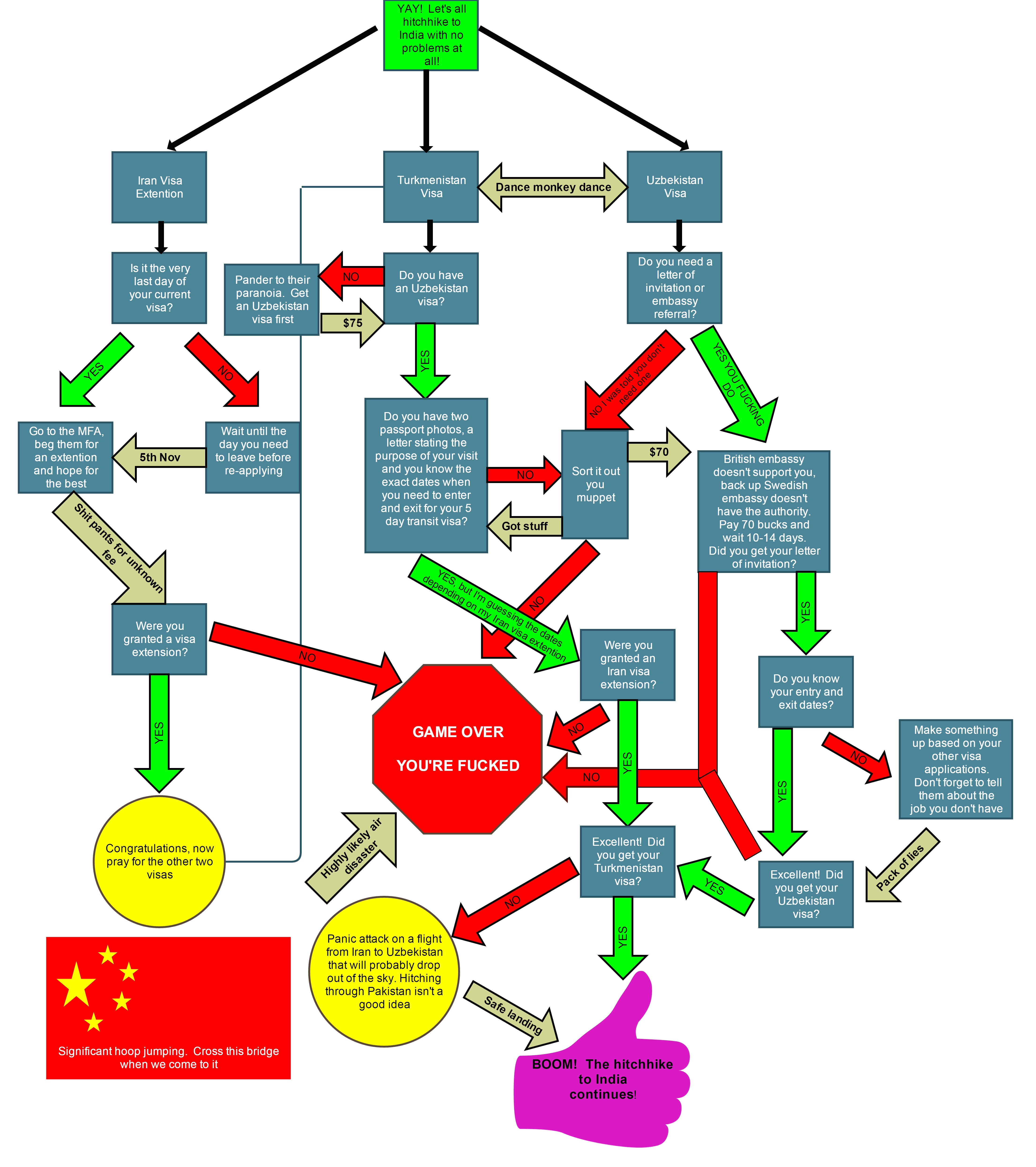 I've never done a flow chart and it's a bit shit.  It was as confusing to write as it is to actually experience. Once I settled down though, I realised there's nothing I can do about it, and I've just got to dance for them like a performing monkey and hope I can achieve a domino visa effect. So instead of wallowing in my own destructive impatience, I accept the kind offer from my wonderful couch-surf host to visit a cloud forest, some 5 hours outside the capital.
Long story short, a very nice (asexual) time was had by all, and to cap it all off, I'm granted permission to drive back home across Iran and though Tehran's death roads. I thought Georgia and Armenia were bad, but these guys drive like they're playing Rad Mobile.  About half way home and Hanieh drops an absolute bombshell on me. It isn't 2015. We're in 1394. I freak out in-front of a coffee shop while screaming at the car.
"WHAT IS THIS?! WHAT IS THIS MACHINE?!"
Apparently we're using the Shamsi calendar, which means we've gone back in time. I'm not going to go into it because you've got Wikipedia, but I certainly can't get my head around it. I make a promise to educate myself if we return home in one piece.
Which of course we do because I'm a driving bad-ass. And by bad-ass I mean excessively cautious. The feeling of elation in arriving safely home after successfully negotiating psycho Iranian drivers was quickly replaced by abject despair.
I'd left my net-book in a drawer back at the cottage.
I'd put it there for security.
Hanieh calls the host, who confirms he will check tomorrow and figure out a way to send it back. I breathe a sign of relief. This is until the following morning when he "can't find it". You know where this is going. We're about to enter a bidding war for the safe return of my laptop, visa application documents and extensive pornography collection. He still "can't find it" at around 1 million Rials. At 2 million Rials he's beginning to get hazy flashbacks. At 3 million Rials he's got it in his hands. Hanieh (bless her cotton socks) manages to get the arsehole back down to 2 million. It's going to cost me 45 quid to get my own stuff back.
A day later and we're sitting round a mobile phone juggling computernapper, work colleague and driver /money drop-off man. This is after I've eaten a breakfast consisting of a burger and a coffee, for which Hanieh insists I'm clinically insane. For a fleeting moment I consider offering the reward as the price on this thieving bastards head, which I swear is the plot from Mel Gibson's Ransom. It's taking all of my willpower not to scream "GIVE ME BACK MY SON!"
Upon its return, I've taken his phone details, and for the past twenty-four hours I've been bamming him up with texts about how the police are involved, he's going to lose his business (if he was in Scotland he'd lose more than that), he's fucked with the wrong guy, and he's generally a robbing scum bag. I'm deadly serious about following it up (or burning his house down), until he starts calling Hanieh. The cowardly bastard isn't contacting me – in spite of me insisting this is between the two of us and nobody else – and he's threatening Hanieh's job unless I back off. The word 'cunt' doesn't even come close.
And so this is the way it works here. As Hanieh and I were an unrelated male and female staying a night under the same roof, she (not me) could get into an awful lot of trouble. We're the victims, but going to the police could cause her some serious problems. We do our best to get a straight story, but it's no use. This astronomical cock womble has got us by the balls and he knows it. There's no choice but to back off and let him get away with it. We weren't the first, and we won't be the last.
In defence of Iran and for all you media-brainwashed-armchair-haters I would like to point out that this could have happened anywhere and usually does as a result of my own incompetency.  However this time I don't have booze to blame it on so I really am I total screw up.
It's times like this that I really miss my dad, but for all his superior policing knowledge, Iran is out of his jurisdiction. It's also times like this that I (whisper it) miss the UK. If this had happened there, this douche would be in the cells faster than you could say "sexist patriarchal society", and I would be free to have a wild night with Hanieh devoid of being under the watchful eye of the establishment. Oh and if she wasn't dating anyone. Which she's not allowed to do either. We moan and we complain when a package is a day late in the post or the neighbours are noisy upstairs, but we can kiss someone we love in the street and for the most part, the system works. In reality, and certainly when it comes to law; we don't know we're born.
With time against me and the visa process stalling, I decide to flee the capital and see as much of this beautiful country as I can. I'm pinning all my hopes on the Iran visa extension and one can only hope the scales of traveling justice will tip in my favour.  Everything is hanging in the balance.