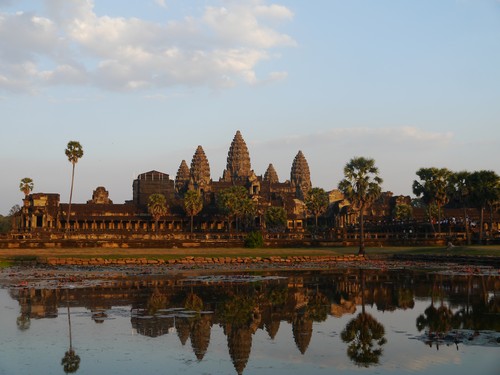 Angkor Whatever
I was feeling like the weight of the world had lifted off my shoulders. In the days following "the death wank" I'd be born again and made the life-changing decision to stop traveling. Six years is a long time, and my recent health debacle was the catalyst for serious reconsideration. In booking a flight – first back to Bishkek and then later to Croatia, I was suddenly the happiest I'd been in many a moon. In the meantimes, I was sure there was something to see around this shit hole?
I knew there was a reason I'd come to this insalubrious dump. Siem Reap is the feeder town for a visit to Angkor Wat – one of the most important religious and archaeological sites on the planet. Siem Reap itself is a hell hole of a place – especially on "Pub Street" which just becomes a fucking mess every night. The problem was – I was partaking in said mess, and becoming a mess myself. However, in finally coming to my senses and sorting my shit out, I was going to leave it all behind – but I might as well see this temple thing right?
And yet it took all of my willpower to do so. I even contemplated not going as my flight rapidly approached, as keen as I was to get out of here and simply going through the motions until it was time to leave. I honestly couldn't believe how much I was looking forward to being back in Bishkek, and that really tells you something for how distasteful I've generally found south-east Asia. One late afternoon, on my last full day in the country, I forced myself into a tuk-tuk for the 30-minute ride to the temple.
And yet still I wasn't excited. Unlike the millions of tourists who flock here every year to get that all important money shot of the sun rising or setting over the temple – a picture that has been taken literally billions of times – I felt dead inside as I joined the stream of visitors to the site. The growth has been rapid too, around 8,000 people visited in the early 90's, and the figures to date have jumped to over two million every year. It's overrun. Nobody has an original idea anymore. Sheeple.
And well it might be overrun – for it is beautiful – and the Cambodians know it. It's revered so much that it's even made it onto their national flag. A one-day ticket costs $37, a three-day $62 and seven days costs $72. They are raking it in. But at least that money is largely going to the conservation and upkeep of the site, which surprisingly hasn't seen as much tourist damage as you might expect. It appears revellers destroy Siem Reap instead, and are respectful to the monument itself. We can be thankful for small mercies.
The complex is actually huge, as well it should be for being the largest religious monument in the world. Built in the 12th Century, it was originally a Hindu temple before over time becoming a Buddist one. It's more of a city consisting of several temples and spread out over a large area – although Angkor Wat itself is the one everyone knows and photographs repeatedly. This was surprising to me, and to see it all you would indeed need a few days. As you might have guessed, I have absolutely no interest in doing so, and I ask my tuk-tuk driver to only take me to the must-sees.
Ta Prohm is a stunning ancient temple, slowly and dramatically being reclaimed by the jungle. It is archaeological porn for any Indian Jones wannabe. Fat trunks and roots of trees spindle through the architecture, reaching through cracks and openings, pulling stone back into the earth. It's a place that looks as if it doesn't belong in this world, with an eerie, mystical aura that captures you when you manage to experience a moment of silence.
Which is few and far between – as you would expect, the place is crawling with human bacteria, shuffling slowly along, plodding behind one another on the walkways, inching onwards like elephants linked tail to trunk. I loath people in photographs – unless I'm actually photographing people – but I managed a few shots I'm pretty pleased with. I was in a hurry – my driver couldn't wait too long and the sun was dipping rapidly – so I whisked around as best I could, weaving in and out of thousands of Koreans, getting the gist of the place, before making it back to the pick-up point. Angkor Wat was still some 20 minutes away – and as much as I berate everyone else about it – I still wanted my shitty point-and-shoot sunset photograph that would obviously be chosen as the cover of a National Geographic.
I try and keep to myself through the throngs of people, staying away from the crowded areas, and indeed at certain moments, I find myself alone. I actually think I've been pretty lucky – maybe coming late on a day when there are not that many people here. The season isn't underway yet, and I've heard horror stories of just how bad it can be. I'm pretty thankful I can wander the full circumference of the complex lost in my thoughts with little to disturb me. Watching the twilight evening sun as it catches these ancient stones, it's all rather spiritual. Wait. What is that? That feeling? I'm having a good time…?! Surely not?! Push the self-destruct.
Upon turning the corner and completing my solo wander around the walls, I spy the gathering throng, lining up their telephoto lenses, holding up large iPhone pads, jostling for position, freaking that they're not going to get their shot as time is running out. I feel a wry smile creep across my face – I really am done with all of this. Any lingering doubts about making the right decision evaporate, and I take a few snaps of the temple at sunset before turning for home. A proper home. A more permanent and lasting home. A home where I'll put down roots similar to those that have held these temples together for centuries. And anyway – Machu Picchu was way better.
For a less cynical article on Angkor Wat, I suggest you check this one out over at gonomad. I generally just depress everyone.